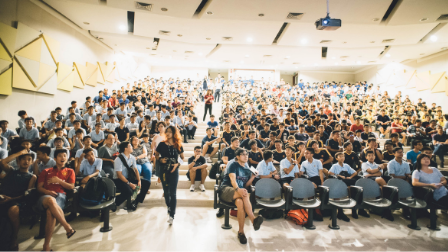 Crowdfunding is a very useful tool for startups that do not have or are low on capital. Read on as Mouna Aouri, Founder of Woomentum, addresses some basic crowdfunding concerns with tips useful for your campaign launch:
1) Gather 100 supporters
The amount of work that needs to be done before a campaign launch is too often underestimated. Mouna recommends that there should be at least a hundred people from your network who will support your campaign in the first two weeks. This is crucial in boosting your campaign while you reach out to more people.
2) Share your story
Again, most of the supporters (about 80%) will come from your network, meaning that you will have to include more information to attract potential supporters. In order to do so, Mouna shared that an introduction in story or short video form on your landing page is a tried and true approach. It will help capture people's attention, convincing them to support your business campaign.
3) Give concrete examples
You will have to establish a sort of trust for your supporters so that they feel safe when donating to your cause. Clearly state your plans on using the funds raised with concrete examples.
4) Choose the right platform
With regards to choosing a platform for your crowdfunding, it mainly depends on the geographical location of your target customers and supporters. However, if you are confident that you have a group of supporters that will donate to your cause, your selection of a platform might not be as crucial.
5) Don't overextend your funding goal
Mouna stresses to NOT overextend your funding goal. Some websites have a time limit on the campaign duration and if your goal is not reached by then, you will not receive a single cent. On the other hand, when others see that your goal is reached rapidly or even exceeded, it gives a clear image of support from the community, boosting public opinion. In turn, you gain an even larger group of supporters. Lastly, a short campaign period sets off a sense of urgency and would push your supporters to pledge right away. One last thing: Mouna notes to avoid running your campaign on more than one crowdfunding platform. You should just concentrate on one and do it well, so as to avoid overextending your startup's limited capabilities.
Written by Audrey Sim
---
Your Turn!
Any other crowdfunding ideas you'd like to share?
Add your comments below!