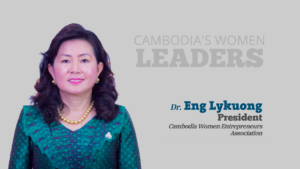 This is a single part of a series of stories of 21 women leaders of Cambodia. Download the full publication here.
Give a short introduction about your life (family, education, marital status) and how has your experience been as a leader and what achievements are you most proud of?
I am the second of six children in my family – two males and four females. I married a businessman and we have a son and a daughter. I graduated in 1992 and become a dentist. I began my solo entrepreneurship in 2003, with my dentistry skills and knowledge. Cambodian people had lower awareness of health care and did not trust medical professionals. When the Government was promoting the health care system and higher education in dentistry, I managed to continue my study and completed my Doctor of Dental Surgery (DDS) in 2002 and went on to become a postgraduate in Periodontology in Phnom Penh in 2005. In 2008 I obtained my certificate of Oral Implantology from Germany.
I am currently a founder and Director of Master Care Dental Clinic which drives dental technology in the country with internationally qualified doctors. I am actively involved in social work to improve health care and am the co-founder of the Cambodian Dental Councils as well as being the third president of the Cambodia Women Entrepreneurs Association that serves more than 500 women entrepreneurs.
I worked twice as hard as men and struggled to balance my business with my role as a mother and a wife.
When you first started out with your career, what were your most significant challenges?
When I started my dental school and my business in dentistry, there were not many women joining this industry. It was a big challenge and a very critical time for me as a woman in a male-dominated profession. At the same time, there was no motivation from my husband. The money he gave was only for the household and child care expenses. Being a female leader and entrepreneur in this field, I had to do two jobs at the same time by playing a man's role at my own clinic and being a housewife who took care of my kids at home. I worked twice as hard as men and struggled to balance my businesses with my role as a mother and wife.
Over the years, what valuable lessons have you learned as a leader?
Leadership values that I have learnt are as follows:
Self-leadership: we have to have strong commitment and set our life goals. Then never give up your dreams and goals easily.
Leadership in family: be a good role model for your children and other family members by not only talking but also by taking action.
Leadership in Company or Society: value and place trust in employees, and provide them with an appropriate salary based on their competency. More importantly, we have to put the right people into the right jobs at the right time. As leaders, we have to take more responsibility than our subordinates. The significance of the role is to produce more leaders who should have positive thinking and be brave enough to on take challenges.
What are your core values and how do you ensure your team is aligned with your values?
I have six core values for myself and my teams. They are:
Trust: in working together and building businesses, trust in each other is vital.
Empowerment: I always give power and empower my teams to make decisions for tasks they are involved in.
Promotion: when they are capable of doing their jobs well, my team normally gets their salary increased and along with other commissions.
Value and Appreciation: appreciate and encourage the employees to love their jobs and want to stay longer with us.
Involvement & Mentorship: If we start our business with our own skills, the success rate is higher because we know what needs to be done, and it is much easier to involve others to sort out problems together.
Challenges: react positively and with confidence to all challenges that come our way as these will provide us with opportunities.
What are some of the behaviors or traits that you think are negatively impacting leadership?
Negative attitudes I could identify are
Never giving opportunities to employees and teams to allow them to share their ideas and show their talents,

Quick reactions to problems can potentially lead to making the wrong decisions

What are you doing to continue to excel as a leader (leadership tips in doing business and promoting women's economic empowerment or gender equality)?
Continue learning by attending short courses and read relevant business documents.
Approach and build your network with others whose knowledge and experience are better developed.
Develop and update the business plan regularly e.g. every 3 to 5 years.
There are no differences between men and women in fulfilling their jobs. Women can do as well as men.
What are some of the biggest risks you've taken in your career and how did they turn out?
I am facing risks in recruiting well trained staff.
My business is involved with people's lives so qualifications are essential. We have to be professional and skilful in the dentistry industry.
What makes Cambodian culture unique and how do you think Cambodia can thrive in this age of entrepreneurship and dynamic leadership.
The uniqueness of Cambodians is patience because they have gone through many wars and more difficult times than other citizens.
What advice do you have for young Cambodian female entrepreneurs?
The advice I would give to all youths is that they should be patient and try their best in doing their business. In order to make their business more successful, they have to spend more time in their business and put in more effort by reducing costs to allow for business expansion. They need to know how to master the habit of delaying gratification.
© Copyright 2019
This is a joint publication by Woomentum and Konrad Adenauer Stiftung. Download the full publication here.