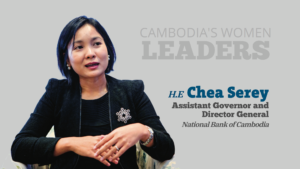 This is a single part of a series of stories of 21 women leaders of Cambodia. Download the full publication here.
Give a short introduction about your life (family, education, marital status) and how has your experience been as a leader and what achievements are you most proud of?
I am CHEA Serey. I am married with 4 children, of which 2 are adopted. I met my youngest son during a trip to Takeo Province that I made with the Raksa Koma Foundation, a Foundation that I co-founded, which focuses on the welfare of underprivileged Cambodian children and raises awareness for mental and physical disabilities. I am also actively involved in many charity works, including being a board member of Smile Cambodia that provides free surgery to cleft and burn children, and Khmer Sight that provides cataract surgery for underprivileged people.
I have a MBA in Banking from SOAS, University of London (UK) and I am currently pursuing a PhD degree with the University of Adelaide (Australia) focusing on balancing financial inclusion and financial stability.
As an Assistant Governor at National Bank of Cambodia, I am in charge of five departments and sit on many policy driven committees within the bank and also at the national level. I have also been chairwoman of the Cambodia Credit Bureau since its establishment, a member of the South East Asia Advisory Board of Women's World Banking. And before that I was a member of the Gender and Women's Financial Inclusion committee of the Alliance for Financial inclusion. Before I was appointed to this position, I worked my way up from cabinet officer to deputy director general of the banking supervision department. I was coming up at the time when they were restructuring the banking system, in which the central bank wanted to strengthen the banking supervision function. So, I am proud to have taken part in the building of confidence in the banking sector in Cambodia as well as the significant positive development of this sector. I am also honored to have contributed to the closing of the financial inclusion gap at a national and global level and was recognized for this effort with the Gender Advocacy Champion Award 2018. I was also awarded as an honoree of the Asia 21 Young Leaders in 2017, Young Societal Leaders in 2018 and ZICO ASEAN 40 under 40 in recognition of my progressive leadership in the Cambodian banking industry.
Have a clear goal and be committed to it; there is no substitute for blood and sweat.
When you first started out with your career, what were your most significant challenges?
The main challenge when I started work was building confidence in the banking sector, particularly when 17 banks were liquidated at that time and 5 were not able to repay their depositors. So we needed to convince the people to save in a bank and allow the financial sector intermediation to take place and contribute to economic growth. I have learned a considerable amount from this experience. On a personal level, I was having my first child and she was exclusively breast-fed. There was no pump available then, so I had to run between my office and home to feed my baby. In addition, back then I was amongst the few staff having an international degree so there was greater expectation for me to deliver. That was an additional pressure but also a great opportunity for me to do more and learn more.
Over the years, what valuable lessons have you learned as a leader?
There is a view that we share among the management at the National Bank of Cambodia. It is that titles can be given and taken away but the relationship that we build with our team will last a lifetime. I have learned that leadership is not about managing our team, but it is about inspiring them to believe in and share our vision. We get the best results from our team when we believe and work to achieve the same common goal. Leadership is also about building and nurturing a respectful relationship with your team. As a leader, you need to be willing to invest your time in building and nurturing good relationships with your team as they are your biggest asset.
What are your core values and how do you ensure your team is aligned with your values?
I live my life by a simple quote that I stumbled upon and it says "Work for a Cause, not for Applause. Live life to Express, not to Impress. Don't strive to make your presence noticed, just make your absence felt." I find it too exhausting to dedicate my life to appease everyone. We should try not to let the desire for recognition lead to an action that conflicts with our conscience. We need to be happy with who we are, because at the end of the day we go to bed with ourselves.
I never impose my views on my team. But I do, however, try to lead them by example. I believe that everything can be done better when the people who get it done believe in it. I believe that as a leader, you need to create a working environment that allows your team to use their creativity to strive for a better result. So, rather than giving them an exhaustive to-do list, you need to provide clear objectives and empower them to figure out how to achieve those objectives. However, you also need to know each of your team members' strengths and weaknesses in order to effectively assign them roles.
What are some of the behaviors or traits that you think are negatively impacting leadership?
Hot-temperedness, lack of compassion, pride, and ego.

What are you doing to continue to excel as a leader (leadership tips in doing business and promoting women's economic empowerment or gender equality)?
I believe that information is power. A good leader is a great reader and listener. For women business owners, a strong commitment and dedication are important to reach success. Never fear failures as these are the paths to success. But most importantly, one must believe in oneself and have a clear objective. Effort without a clear objective is of no use.
What are some of the biggest risks you've taken in your career and how did they turn out?
Most of our decision involve some degree of risks and could turn out bad or good. And you need to take responsibility for your decision making. If it is good, appreciate it. If it turns bad, accept it and learn from it.
What makes Cambodian culture unique and how do you think Cambodia can thrives in this age of entrepreneurship & dynamic leadership?
Cambodians went through many stages of bitter history. But we never gave up. We are a very resilient people. That we were able to transform a war-torn country to one of the fastest growing economies in the world and an overachiever of the UN Millennium Development Goals is a testament to this resilience. We also made the list of the top 10 most friendly people in the world despite this traumatizing experience, which shows our positive attitude to life.
Broadly speaking, as a late bloomer, Cambodia is able to leap frog many stages of development. With an enthusiastic and thriving young population, increasing fluency in English, stable macro-economic indicators and positive economic growth prospects, Cambodia is a good candidate for investment.
What advice do you have for young Cambodian female entrepreneurs?
Take risks: Failure is part of any success. All medications had many failed trials before they succeeded and saved lives. Do not be afraid to fail. Learn from your failures.
Have a clear goal and be committed to it: there is no substitute for blood and sweat.
Leadership is a skill and not a gift. We might be born with a talent but leadership can be developed over time.
© Copyright 2019
This is a joint publication by Woomentum and Konrad Adenauer Stiftung. Download the full publication here.