This is a condensed version of the original course available on the Woomentum Network.
This Course was designed with the hopes of helping members of the Woomentum community build and share courses with each other. Creating an online course requires effective planning. With this course, we hope you will begin to make amazing courses for our community.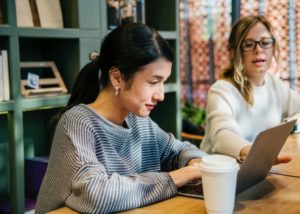 Introduction to E-Learning
The advent of E-Learning courses has made high-quality education much more accessible, as well as flexible enough to suit one's schedule and learning pace.
The basic components of an E-Learning course are:
1. A Learning Management System (LMS)
A typical LMS (whether it is software, a mobile app or a web-based platform) should have an interface for users to create modules, chapters, lessons, and content, which all are made accessible to learners who enrol in the course.
2. Interactive Media & Activities
As E-Learning is a more isolated experience than traditional classroom learning, the course should step up learner engagement with visually striking graphics, videos and simulations, as well as interactive quizzes or mini-games to interest the learner and assist with conceptual retention.
3. Community-Based Learning and Participation
Community-Based Learning fulfils the learner's inherent need to discuss and share opinions, but more importantly, it allows instructors to interact directly with students and guide them more effectively.
4. Exams and Certifications
Unlike certificates provided by registered institutes, certifications for E-Learning courses will not be credited as legitimate documentation of expertise. However, E-Learning certifications still incentivise learners, because learners earn them by passing assessments that demonstrate the practical knowledge they have gained.
5. Projects and Assignments
Projects and assignments translate knowledge gained into practical applications when done in parallel with lessons. An E-Learning network can track progress and engage multiple learners to demonstrate their projects, making the learning experience rich and interactive.
Features of Woomentum Online Courses
With Woomentum's online courses, you no longer have to spend a fortune publishing, marketing and distributing your courses. Woomentum's online course platform has a ready-to-use, aesthetically pleasing template for you to create courses with minimal effort. All you need to do is plug in your content after organising it as follows:
An Overview of the Course which outlines what expertise learners should gain upon completion
Sections (main topics), within which you have Chapters (for subtopics)
Lessons falling under each chapter. Each lesson should:

Be concise and well-structured with headings/ subheadings as needed
Visually engage learners (images/ video)
State learning objectives and summarise important points
Note: Courses on Woomentum have three Viewing Options ->  Public, Private, or Secret. Secret applies to incomplete courses accessible only to the creator, Public is for complete and freely accessible courses, and Private is for invitation-only courses.
Don't forget to engage the Woomentum community with the Activity Feed in each course by adding relevant posts, questions and polls to foster a vibrant and interactive learning experience. This community learning feature not only enables you to guide learners and clarify doubts effectively, but also helps to build your following and curate your reputation as an expert.
Step-by-Step Guide to Launch Your Course
Once you have a blueprint of your content with the relevant Sections, Chapters, polls/ activities and Lessons (whose names should be within 30 characters), we recommend that you start by familiarising yourself with the interface and create a test course before diving in.
Step 1:
Log in to Woomentum, follow the Online Course tab on the left-hand navigation menu and click on the + sign to start making your course.
Step 2:
Select your Viewing Option and include company logos/ images/ website links if desired.
Step 3:
Make your Course Overview, highlighting what learners will gain from the course as well as desired contributions from learners regarding assignments, participation in discussions etc.
Step 4:
Create the Lesson.
You can edit each Lesson and create discussions around the specific lesson, assign an instructor, keep the lesson hidden, delete the lesson etc.
Step 6:
Invite and share your course.
Click on the Manage button given on the landing page and explore the options given.
Important: After creating the lesson, Enable the Hidden option to Visible, otherwise people will not be able to view or access your course!
Step 7:
Create a Discussion or Poll for the Course.
Remember to Save the lessons as you move along. Courses may be deleted under General Settings, but cannot be retrieved after that.
Important Tips for First-Time Course Creators
Without a clear purpose and thought process in place, you will waste time and effort creating generic, ineffective courses. Before you begin, it is essential to consider:
Why are you creating the course? 
Who is the course for? 
What is the end outcome/ goal of the course?

Creating a Course Plan
📄
When creating a course plan, make sure you cover the following important pointers:
A brief course description
All lesson objectives
Images and videos to be included
Tone and content style – grammatically sound but easy-to-understand language
Statistics, facts, citations and any relevant numbers/ links to be included
Use original content unless it is your own authored content published elsewhere
A list of activities, polls or discussions for the course
A lesson summary to reinforce important points in each lesson.
Download a copy of the Course Plan worksheet.
Performing a QA Test of the Course
🔎
QA is an important part of E-Learning course creation to check the usability of the platform, the soundness of the course and other components in order to ensure a positive user experience.
Look out for:
Missing sections and descriptions
Content errors (spellings, sentence structure, grammar etc.)
Abnormalities in the platform
Image or video loading problems
Any abnormal web links
Accuracy of claims, legal terms (with govt. attached links), or statistics
Accuracy of images or videos used
We hope you were able to derive important insights from this course. We are always here to assist you, therefore, feel free to drop us a message or comment on the lesson wherever and whenever you need help.
---
Are you ready to create your first Woomentum Online Course? What will it be about?
Share it in the conversation below! 🔽