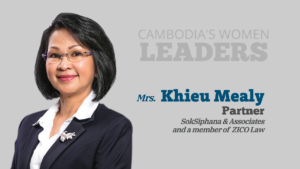 This is a single part of a series of stories of 21 women leaders of Cambodia. Download the full publication here.
Give a short introduction about your life (family, education, marital status) and how has your experience been as a leader and what achievements are you most proud of?
I was born in a middle-class family who treasured education. I was the seventh child in a family of nine. My late parents believed in education and they were of the view that all their children, both daughters and sons, should receive a proper education. My mother felt particularly strongly about this especially since she herself did not get a chance to go to school due to conservative social traditions. Throughout her whole life she worked hard to make sure that all her kids got educated. We had the benefit of both formal education as well as a very rigorous traditional upbringing which taught us good soft skills. We were brought up to respect people for their good nature, not because of their material wealth or their position in our society. As a fervent Buddhist family, my late parents taught us
also to adhere to the four Buddhist principles of loving kindness, compassion, empathetic joy and equanimity. Their caring behavior toward the family, the neighbors and the community have left a deep impression in my life. I could say the same about my other brothers and sisters. We grew up in a very harmonious environment, even during the darkest period of time when the country was engulfed in war, genocide and starvation.
Aside from my parents, another great role model that has shaped my life is my husband, Dr. Sok Siphana. I am a lucky woman to have married him, especially through a traditionally arranged marriage. He too values high education and hard work. He holds a Juris Doctor from the United States and a Ph.D in Law from Australia. He is currently finishing his thesis for another Ph.D. at the Université de Paris Panthéon-Assas in Paris, France. Since our marriage in 1993, he has encouraged me to pursue higher education. In his view learning should be a lifelong journey. I was very inspired and I did follow my dream of learning, despite being in the later stages of my life. Last year, I finally received a dual Masters Degree in International Law from the University of Libre Bruxelle and from the Royal University of Law and Economics. It took me two years of taking night classes to finish the program. I am blessed to have two kids both of whom are following in our footsteps in terms of education and values. My daughter, Rosette, graduated from McGill University in communications last year and is pursuing her Juris Doctor at the University of Sydney. My son, Samithi, will graduate from high school this year. He is prolific writer and at a very young age of twelve, he started publishing sci-fi novels. He had four novels published and sold. What touched me most was that he donated some money from the proceeds of his book sales to Kuntha Bopha children hospital. As a mother, I am very happy to see our children growing up with caring feelings toward the less fortunate.
Aside from raising a family, I have the personal experience of running a law firm, as a Partner. As a matter of fact, my husband and I started the law firm, Sok Siphana & Associates way back in 2009. Over the years, the law firm has grown to become one of the leading law firms in the country. Our law firm has been for the last seven years, part of ZICO Law, a network of law firms in all ten ASEAN countries. Last year, we opened our branch in Siem Reap province to cater the needs of clients in hospitalities. Most of our staff are female and young. I've spent quite a bit of my time coaching and guiding them. I believe in staff empowerment and I like to motivate my female staff to believe in themselves. I groomed them and inspired them to work hard so that someday they can become partners. In the firm, we have different practice groups, such as corporate law, intellectual property rights, banking, etc. and I have coached many senior staff to lead the practice groups. In my view, each of us is a leader, no matter our standing or what we do. I grew up believing that a leader was someone who could do big things, but actually, after going through a lot in my life, as a wife, a mother, a student and a law partner, I realize that a leader is anyone who is in a position to influence another person. In this sense, every one of us is a leader and every little thing we could do could make a big impact on the lives of others. As a leader of a family we could influence our own kids to be good kids and good citizens. We could teach them good values, to help our communities, and at some point our nation. We have to teach them the value of giving back to the community.
In terms of personal achievements, I am proud to be recognized and respected as a partner of a prominent regional law firm. I was also recognized as a leading lawyer in Intellectual Property by AsiaLaw and I was awarded a Leadership Award by CMO Asia recently in Bangkok. In terms of national duty, I was very honored when I was proposed by The Honorable Madame Khuon Soudary, Second Vice President of the National Assembly of the Kingdom of Cambodia to be her advisor. In the confines of my law office, my staff usually addresses me as "Ming", a Khmer language reference to "Aunty", a cultural reference of respect.
I believe no one can stop you from learning or thriving except yourself.
When you first started out with your career, what were your most significant challenges?
When I started out my career as a lawyer I was confronted with both external and internal challenges. One of the first external challenges was difficulties in accessing legal documents. For legislation and government decrees (Sub-Decrees), it was not the case as they are published in the Official Gazette but for ministerial regulations (Prakas) they were hard to find and required a lot of follow up with government ministries. Moreover, there were no translations in the English language. We had to translate them for our clients. Apart from laws and regulations, our court judgments were also not published. As a consequence, we had to do a lot of research and double checking before we could issue or provide legal opinions to our clients. Another challenge is the language barrier. English is not my mother tongue.
My internal challenge was my introverted nature. I was reluctant to reach out to people, especially to government officials. I was always stressed when I was asked to set appointments with them, even though I knew them. I admit that back then I was not good at dealing with other people, especially in areas of networking.
Over the years, what valuable lessons have you learned as a leader?
The valuable lessons I learned as a leader are to be mindful of my environment and to be proactive in dealing with issues. Constant communication with people with whom I work, particularly with clients, is important. In my firm, as the years go by, I've learned to accept the blame when I did something wrong, as much as I've learned to give credit to my colleagues and staff. I understand well that I cannot do things alone and that I need a team to work with to achieve the objectives of the firm. I need to make sure that all of them are on the same page with me, in terms of vision and mission. I've learned to scrutinize detailed legal transactions; micromanage the budget as well as monitor the market trends. I've learned that continuing education for staff is very important, particularly for specific sectorial knowledge. Improving the soft skills of the staff is another task which I take seriously. When opportunities arise, I've never failed to send staff on overseas training or as secondees at our regional headquarters.
When dealing with staff, I am very conscious about the face saving aspect. I do not blame my staff in public but privately I tell them where they have not performed well. On the contrary, I always praise them in public. I empower them to make decisions and inspire them to take risks. Another lesson I've learned was how to treat the staff and colleagues fairly and to be ready to lend a helping hand when needed. As a leader I make it my business to know and to identify the issues and the problems in the firm and to seek solutions, sometimes on my own, and when I cannot, to reach out to others. In the workplace, we've created an open, friendly working environment and staff are encouraged to support each other. I believe a lot in team building exercises and brainstorming staff retreats. By working directly with them, they have known me as a fair leader, keen for their welfare and wellbeing. I strongly believe that a leader is someone who is not afraid to help their staff or colleagues do a better job than you. Leadership is not about managing your staff. It is about guiding them, empowering them and giving them the space and the opportunity to do their job better.
The other important lesson is that I can't please everyone and I realized that I have failed many times also. I used to blame myself when I failed on something but I have learned to be zen. I did yoga and meditation regularly three to four times a week and it did help me to cope with these difficult moments. I've learned to accept the mistakes I make and to analyse what I did well or why I didn't do well. I've learned that success should not be a destination and that life should not be all be about winning or losing. The essential thing to do is to get up after I fall and I know that, as a human being, I will fall again and again in life. I need to learn from my mistakes. I've learned to understand the feelings of others and to observe. By now, I can feel or spot when my staff are not happy. Successful leadership is not about being very smart or very educated but about how to treat people with respect, and to inspire and give a helping hand to those in need.
What are your core values and how do you ensure your team is aligned with your values?
In our firm we have the following core values: lead; trust; connect; integrity; innovation/ pioneer and care. When we recruit people, we are not focusing only on professional experiences or education but also on interpersonal character or behavior. We clearly divide between mistake and choice. If they mistakenly did something wrong, we can accept once but if they continue to make the same mistakes over and over, we do not tolerate unprofessional or negligent behavior. Our market is too small to lose our reputation. Integrity is highest in our core values.
What are some of the behaviors or traits that you think are negatively impacting leadership?
Behaviors that could negatively impact leadership are arrogance, narrow-mindedness, nepotism, favoritism, jealousy and the "know it all attitude".
As a leader I believe that one should earn respect from colleagues and staff rather than demanding it of them. The main characteristics of a good leader are being a visionary, role model, and having a sense of humility and fairness. Fairness is important in a competitive work environment as the leader must learn to give equal opportunity for advancement to others.
I recall that when I was younger, I did apply for scholarships to study overseas two or three years after the fall of the Khmer Rouge regime. At that time, we did not have a chance to select where we wanted to go or what we wanted to study. At that age, I thought that favoritism was acceptable and was good. So, I asked my older brother to help me to go to a good country like Germany. Instead, I was sent to study in Russia. I further asked him to get me into a good degree program. I ended up studying to be a sewing machine mechanic. Upon my return, I was sent to work at the international trade department of the Ministry of Commerce and there were two positions available: one was at the export and import office and the other one was at the commodities pricing research office. I had high expectations that my brother would help me to get the position at the import/export company because I could get more lucrative benefits, but unfortunately I was sent to the commodities pricing research office. I was upset because my brother did not want to lift his finger to help me. I pitied myself and it was hard to take. Later on, when the economy of the country started to open up, I decided to join the private sector. There, I challenged myself and I kept on learning. Occasionally, I look back and I must admit that I am thankful to my brother who did that to me. The lesson from my own experience taught me how to be strong and to value fair opportunity. Later on my brother mentioned, not directly to me, that had he lifted his fingers to help me get what I wanted, his act would be seen as family favoritism and it would affect the feelings of others.

What are you doing to continue to excel as a leader (leadership tips in doing business and promoting women's economic empowerment or gender equality)?
To excel as a leader, we should not stop learning because we live in a knowledge based society that requires constant creative thinking to deal with emerging technologies and change. Change here means change in the way of leading and change in the way of working. I believe no one can stop you from learning or thriving except yourself. Apart from that, we must be keen to improve our soft skills, whether they be communication skills or interpersonal relationship skills. A successful leader is someone who creates good relationships with the people around himself or herself. Of course, I recognize that we have to embrace technology but Artificial Intelligence can't replace the human instinct and interaction.
My tips for women in business are to know the market trends that affect their business and to join business networking events, either inside the country or outside. They should keep their eyes and ears open for new business opportunities and learn to differentiate from others. They should be proactive and be ready to seize opportunities when they arise. Furthermore, they should dare to move out of their comfort zone and build more self-confidence. From my experiences, most Cambodian women lack confidence and are not assertive. They must change this mindset. They have to put trust in themselves first and build self-respect. They should overcome the fear of social judgments or criticism and take risks. As long as they believe their actions will not harm others, then they should just do it.
What are some of the biggest risks you've taken in your career and how did they turn out?
I took a risk by agreeing with my husband when he decided to return home from Switzerland, when at that time he had a good career and a well paid job working for the United Nations and the World Trade Organization. That was my biggest risk. When I got home, I had no job and I was afraid because I was a full time housewife for nearly four years in Geneva. I had two kids going to a private international school. My husband did not want to work for anybody and so we decided to reactivate our law firm, Sok Siphana & Associates. We started in the confines of our own home with the two of us, and now we have about 38 people and have now moved out of our home to a nice building on the main boulevard of the city.
What makes Cambodian culture unique and how do you think Cambodia can thrive in this age of entrepreneurship & dynamic leadership.
The role of women in the family is what makes the Cambodian culture unique. I could say that generally Cambodian women play a big role as natural leaders due to their traditional role in the family, but culturally often they just cannot and do not want to admit it. One good skill that women possess is the listening skill. Cambodian women have also a strong spirit of entrepreneurship. The tremendous growth that Cambodia has experienced in the last two decades is due to local entrepreneurship and the openness of the economy. Back in the early 2000s, when my husband was a Secretary of State with the Ministry of Commerce and he led the negotiation to get Cambodia to join the World Trade Organization, I was exposed to a lot of discussions on how open Cambodia is, economic policy wise and private sector wise. Now that we are in the ASEAN Economic Community, Cambodian entrepreneurs can have access to technology, markets, financial support, and technical expertise. Moreover, the young Cambodian population which is very dynamic can also compete with others in the region.
What advice do you have for young Cambodian female entrepreneurs?
My advice to young Cambodian female entrepreneurs is to know their self-worth; what their strengths and what their weakness are. At the same time, they must do a self-evaluation on what areas they should build upon. As I have mentioned earlier they should be on the lookout for new and better business opportunities and they should not be afraid to grab them. They should reach out to professionals for advice when they are facing challenges, whether for legal, financial or consulting advice. Professional advice is often not cheap but well worth it. They should embrace technology and automation. That is the future that they can't avoid. They should make a habit of loving education and continuing to learn. They should read one business book a month, if they can, or at least read the daily business news.
They should not be afraid to speak up if they believe they are right. I want to see all young Cambodian women be in a position to say "yes I can" locally, regionally and internationally.
© Copyright 2019
This is a joint publication by Woomentum and Konrad Adenauer Stiftung. Download the full publication here.