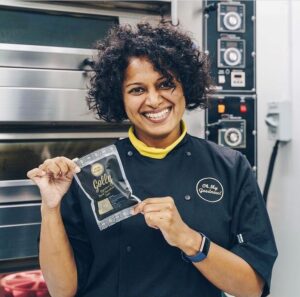 For Ramya Ragupathi, Oh My Goodness!—a company selling affordable gluten, dairy, and refined sugar-free baked goods made without additives—is not just a business, but an extension of her overall philosophy on health and wellness, her values, and her way of life. As a social enterprise offering upskilling, long-term employment, and, hopefully, a life change, Oh My Goodness! is committed to hiring women from low-income backgrounds, intellectually disabled individuals, and ex-offenders.
Coming from a very modest family, Ramya had a career in communications for corporate businesses. Through this career path, as well as through her past schooling, Ramya got to know wonderful individuals and would-be mentors who helped her to become who she is today. 
Long and Painful Road to Funding
Ramya describes Oh My Goodness!'s financing journey as the "classic start-up bootstrap experience." Uniquely, however, she started her company just 1.5 years upon graduation from a business school—and $150,000 in debt. She started with good old-fashioned equity-based FFF ("friends, family and fools") fundraising. The company's first exclusive factory was partially funded by a grant from raiSE, which supports (young) social enterprises by providing funding, mentorship, and platforms for increased brand exposure. To become eligible for a raiSE grant, Ramya had to formulate a clear social mission, along with a viable business model, and register Oh My Goodness! as a social enterprise. Shifting later to debt-based financing in 2020, including short-term loans from a newly emerging group of small and medium-sized enterprise financing organizations like Funding Societies, Oh My Goodness! has only recently qualified for a temporary bridging loan from DBS Bank–Ramya's first loan from an established bank, with support from Enterprise Singapore. 
Role of Community
Ironically, the success of Oh My Goodness!, a company selling healthy foods, has come at a price for Ramya's own overall health. Upon a bold start of her business, Ramya has had to work as a consultant to pay her bills. Despite being a "hyper-organized super planner," Ramya found that managing all anxieties surrounding her start-up became more challenging over time. Timely support came from a group of advisors, mentors, and other women entrepreneurs who Ramya informally meets to discuss common challenges. This smart approach to finding community has aided Ramya to gain both encouragement and new knowledge: "I […] have been very, very fortunate to be surrounded by some amazing people who believe in what we're doing as a company and want to support our growth." 
According to Ramya, women entrepreneurs desperately need community: "We want a community. […] We want to be able to share our challenges and even failures, in a safe space where these are seen as a natural part of the startup journey." This need, as Ramya notes, intensified during the COVID-19 pandemic: "The multiple lockdowns across the world only further exacerbated these issues."
"The World isn't Designed for the Small"
While initially Ramya searched for connections among more experienced business school associates, later on, she wanted to go beyond her network through attending all available food innovations and tech conferences. To her dismay, many relevant events remained inaccessible price-wise.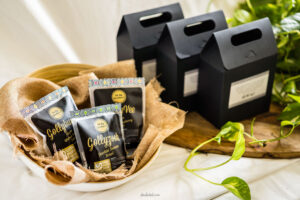 Ramya also argues for the need of more progressive solutions– such as sustainable packaging or more natural food preservation techniques—to trickle down from big businesses. While it is startups and smaller enterprises that lead innovation, they are not always able to implement the desired changes until bigger companies adopt them, too. Ramya reports having had a similar experience with certifications. Seeking to certify the company in the highest possible food manufacturing practices, Ramya found that, along with the certification costs, other barriers were the limited size and premises of her company. Luckily, today, Oh My Goodness! is the only gluten-free certified food company in the Asia Pacific, while also being ISO22000- and Halal-certified. 
Interestingly, Ramya notes that organizations in her company's ecosystem or her customers sometimes struggle with the technologically progressive Oh My Goodness!. For instance, Ramya's landlord still prefers the physical signing of documents over e-signing and does not allow Oh My Goodness! to work with a green utility provider simply because "nobody had asked for it before." Regrettably, to remain in the game, the team has had to make a few compromises, especially in the case of greening the company.
Oh My Goodness! in the COVID-19 Pandemic 
As digitalization and progressive workplace practices like remote working had already taken root at Oh My Goodness!, the company turned out to be more "pandemic-proof" during the COVID-19 crisis. Due to governmental support (e.g. Enterprise Singapore) and hard work, Oh My Goodness! kept growing, especially locally. "The market is huge and growing, and we just need to capture it slowly but surely," quips Ramya with an optimistic smile. In 2020, Ramya discovered a new niche for her company to shine: gifting. "People started sending things to their friends and loved ones to say "Chin up, it's going to be ok, hang in there," and it was nice to become a part of that movement." This gesture perfectly embodies the spirit of Oh My Goodness!.