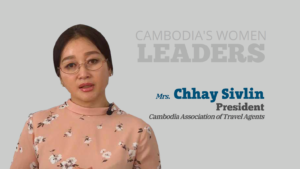 This is a single part of a series of stories of 21 women leaders of Cambodia. Download the full publication here.
Give a short introduction about your life (family, education, marital status) and how has your experience been as a leader and what achievements are you most proud of?
I am Chhay Sivlin, and was born in November of 1972 in Siem Reap province. I am the youngest of five children to a Cambodian mother and a Chinese father. I hold a Bachelor of Management degree, and I am currently married with three beautiful children. My experience as a President to the Cambodia Association of Travel Agents (CATA) and Vice President to the Federation of ASEAN Travel Association (FATA) has been quite a fulfilling journey in terms of receiving the opportunity to meet many friends from all around the world and sharing ideas and experiences revolving around tourism development.
The achievements that I am most proud of include being an influential women's role model in leadership and making changes to the development and advancement of our country's tourism industry. Not to mention, having the honor to showcase Cambodia's treasures to an international audience on many levels is beyond what my younger self could have imagined. Last but not least, Cambodia finally has a voice in ASEAN-level meetings and I am beyond proud to have the opportunity to be the speaker on behalf of Cambodia amongst FATA members.
I consider every setting a learning opportunity for me to excel personally and professionally.
When you first started out with your career, what were your most significant challenges?
At the start of my career in the tourism industry, I faced stereotypes against women in leadership roles. Despite my prior years of experience in running my own travel agency, my ability to lead CATA was somewhat undermined. I had to earn my acknowledgement the hard way by putting more effort into proving my legitimacy in maintaining the role of leadership.
Over the years, what valuable lessons have you learned as a leader?
Valuable lessons that I have learned as a leader include:
Being decisive is a very important aspect of being a leader, because my organization would suffer if I could not make decisions quickly enough.
As a leader, being inspirational is crucial because getting things done does not take one person, it takes me and my whole team; therefore inspiring them to have the same goal is critical.
Having empathy is crucial to leaders because we are constantly 

dealing with people, management and communication. When we are able to see things as the other person does, we tend to be able to come up with a solution that the other person is invested in.

Being able to control my emotions has a huge impact on my judgement. As a leader, it is also my responsibility to manage my emotions mindfully, otherwise my decisions could be biased and unjust.

I have learned that no matter how successful or how much experience one has, humans should never stop learning and seeking advice. The world evolves every single day, therefore there are always new things to be learned.
What are your core values and how do you ensure your team is aligned with your values?
My core values are to incorporate ethics, compassion and integrity in every decision that I make. I strongly believe that as a leader, if I want my team or followers to truly accept and exercise the same core values, the leader has to do it first and set an example for them.
What are some of the behaviors or traits that you think are negatively impacting leadership?
Based on my experience, leaders who exercise power with arrogance usually have followers that have the same traits. Also, leaders who are not open to changes and new ideas tend to not accept anyone else's opinions but their own, and this could gravely affect the whole organization/ establishment.

What are you doing to continue to excel as a leader (leadership tips in doing business and promoting women's economic empowerment or gender equality)?
I am glad to share my leadership tips including:
Maintaining dignity and integrity by being an honest and ethical businessman/woman
Learning to accept and overcome new challenges and ideas in society
Treating my employees fairly and with respect, as well as urging them to share opinions during meetings as it is critical for the business to have all team members actively involved
Promoting women's economic empowerment by:

Attending workshops and seminars enhancing female empowerment
Organizing workshops raising gender equality topics to the participants
Being brave when the opportunity to voice your ideas arise
Continuing to empower women by encouraging them to leave their doubts and pursue their passion
What are some of the biggest risks you've taken in your career and how did they turn out?
When I first started my career in the tourism industry, I had to be the one to explore new destinations abroad in order to bring back new products for my clients, and being a woman traveling to different, then-unexplored countries alone was somehow a risky experience. Fortunately, every trip was a beautiful memory filled with amazing people I met along the way. Additionally, my business journey has not always been a success story as the first few businesses of mine did not work out very well and I had to start from ground zero again. It was not a bad thing, however, because those failures taught me valuable lessons and prepared me for the next big challenges.
What makes Cambodian culture unique and how do you think Cambodia can thrive in this age of entrepreneurship and dynamic leadership.
Cambodian culture is unique due to our proudly strong history, which stretches back to the mighty Angkor Empire era. Apsara Dance, Traditional Arts and Swathe of Artisanal Crafts are parts of what makes Cambodian culture unique and they distinguish us from our neighboring countries' cultures. Cambodian people are naturally resilient, compassionate and hardworking. Therefore we will continue to thrive in this age of entrepreneurship and dynamic leadership. Especially the younger generation, which is getting more education, and striving to create its own footprint in society.
What advice do you have for young Cambodian female entrepreneurs?
My advice for the young generation of female entrepreneurs:
Never ever undermine your own abilities in making changes
Step out of your comfort zone and pursue that career you have been dreaming about
Disregard all discrimination and stereotypes against women; we are members of this society and we deserve to be treated with the same respect our male counterparts are getting
Celebrate your success, but never lose your compassion as a human being.
Be strong-willed, but never be stubborn. Be gentle, but never be weak. Be disciplined, but never be merciless.
Be confident, be strong, and most importantly, be happy!
© Copyright 2019
This is a joint publication by Woomentum and Konrad Adenauer Stiftung. Download the full publication here.