Today, 4D Frame is at the frontline of revolutionizing education. Officially founded in 2000, 4D Frame is a project of two passionate minds: Hyo Sook Yang and her husband, Hogal Park. Hyo Sook's background as a kindergarten teacher and educational researcher and Hogal's expertise in architectural engineering produced a perfect blend of creative zeal and scientific rigor. 4D Frame offers educational tools in the form of connecting pipes. Simple in appearance, these pipes can be used to create a variety of things—from pre-existing models, such as scientific models like DNA or molecules, to entirely new objects.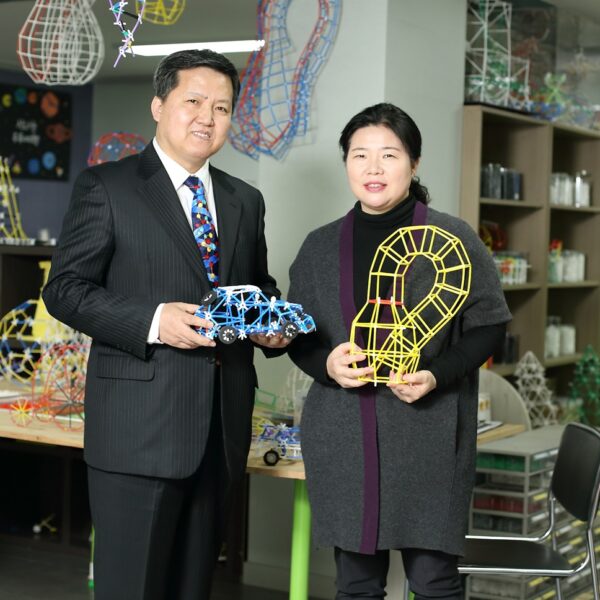 With current exports to 38 countries, including Sweden and China, 4D Frame's road to success started way less impressively. At the early stages of their business, Hyo Sook and Park were so short on money that they could not afford milk powder or diapers for their children. The idea behind 4D Frame products stemmed from Hyo Sook's modest background in Gangwondo, a region in Korea that grows a lot of corn. As a child, Hyo Sook would build structures from straws: "Straws have holes in the middle, so you can use them to make anything." Early on, 4D Frame founders experienced many difficulties in securing funding for their concept. No one could understand what they were doing, and South Korea's economy was unprepared for startups and entrepreneurship. To obtain initial financial support for their company, the couple had to turn to family and friends. 
Determined to succeed against all odds, Hyo Sook and her husband invested all their effort into creating an identity for their company through improving and marketing their products. Eventually, people started showing interest in 4D Frame products. However, initial bids from potential customers (ranging from 300 to 500 million KRW) were too low, while the production costs of patented 4D Frame products made of fine materials were high. Furthermore, many investors' conditions were more favorable to them than to Hyo Sook. Notwithstanding, she managed to maintain control over the company's vision and, soon enough, the company started gaining recognition. In mathematics and engineering conferences abroad, the couple impressed attendees by explaining that their inspiration came from Korea's hanoks (traditional Korean homes). Today, 4D Frame owners get funding from the government for their products being featured in international exhibitions. 
On her entrepreneurial journey to become an industry leader, Hyo Sook had to face many difficult encounters with male-dominated civil servant institutions. In South Korea's business world, it is common for social outings to occur in karaoke rooms and bars after work, where Hyo Sook would be the only woman. Today, she no longer has to tolerate these uncomfortable situations.
Another issue that Hyo Sook had to face was finding adequate mentorship. Despite eventually receiving some help from public labs, educational associations, and academic circles, she still requires assistance from qualified experts in terms of going digital and adopting new technologies. Remembering her hardships, Hyo Sook now serves as a mentor for others, guiding other female entrepreneurs in their digitalization process, and encouraging everyone to learn more about artificial intelligence (AI) and big data. Her advice to peers is to address teachers with ample experience in the implementation of educational content. 
Other sources where Hyo Sook received substantial assistance included the Korean International Trade Association and the Korean Women's Venture Association. From these and several other organizations, such as the Korea Trade-Investment Promotion Agency (KOTRA) which assists digitalization of small and medium businesses, she received support in the form of free lectures and, more recently, a discount on the construction of a website and an application for 4D Frame.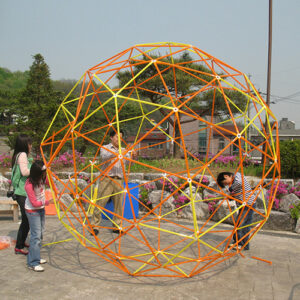 Furthermore, since 4D Frame is classified as a private education company, Hyo Sook admits to having experienced difficulties in gaining support from the Ministry of Education. Yet, after recent reforms in the South Korean education system, 4D Frame was selected as the best education product. Hyo Sook also managed to find a way forward during the COVID-19 pandemic. In response to the company's revenue drop, 4D Frame had to downsize its human resources. Yet, quickly enough, she leveraged the increased interest in online and alternative ways of learning to start offering Zoom and YouTube lectures to teach kindergarteners, which revived the company's revenues.
At present, Hyo Sook strives to build the company's systems into IT and ICT for better usability and efficiency. Her motivation to create localized solutions grew when she realized the gap in digital solutions for AI-based systems in the Korean language—a recurring barrier her company already experienced in exporting its products. Since language remains a big factor in the adoption of technological advancements and requires considerable costs and time until enough data and training in different languages become available, Hyo Sook has recently focused on creating collaboration between experts in engineering and humanities.
All in all, 4D Frame presents a model of education based on encouragement through acknowledgment, understanding, cultural sensitivity, and collaboration with local communities. Through this uniquely holistic approach, the company has created an environment where teachers, children, and everyone involved may learn from each other.