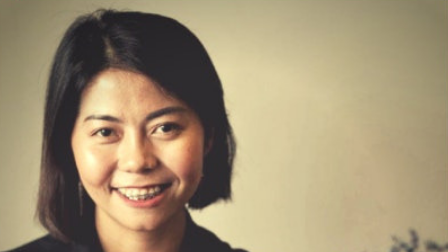 Rachana Pauv is your ordinary Cambodian citizen with an extraordinary passion to give back to society. She firmly believes in learning and sharing experiences and tirelessly endeavours to help the women in her country overcome their basic struggles with technology, networking and acquiring business acumen. Her commitment and dedication to helping Cambodian female entrepreneurs make her one of Woomentum's most amazing Chapter Leaders.
Read her story and be inspired because we certainly are!
1. Please share your story with Woomentum. Who are you and what has been your journey?
I graduated with a Master's in Public Administration from the Royal University of Law and Economics, Cambodia. Throughout my employment, I was in charge of building the market for new products, providing capacity building to staff, controlling stock, networking with clients and ensuring the growth of businesses.
My passion for the empowerment of women has led me to become a member of both the Cambodia Women Entrepreneurs Association and the Chamber of Professional and Micro Enterprises of Cambodia.
2. What prompted you to become an active member and a Chapter Leader for Woomentum?
It is an honour to be an active member and a Chapter Leader for Woomentum. I believe Woomentum has come to Cambodia to help and improve soft-skills of young female entrepreneurs such as expanding with more effective networking both at local and regional levels so that they can trade globally and create new markets.
3. What are your contributions to the local entrepreneurship environment of Cambodia?
Cambodia is one of the least developed countries, yet there are many young female entrepreneurs enthusiastic to start their business. They are, however, struggling with technology, strategy and fundraising and are usually working without a consultant. I am highly committed to the cause of empowering Cambodian female entrepreneurs and want to help them fill the gaps in soft-skills and networking so that they can improve their business. This is why I've been involved in multiple organisations where I've been able to reach out to these women and help them by providing training and consultancy.
4. What have you most struggled with and how have you overcome it?
I think the most challenging situation for me was when I transitioned from the education sector into the business world. I was leaving my comfort zone and I met with many obstacles such as lack of information, lack of the right resources, as well as lack of guidance and training in soft-skills and networking. I was also not brave enough to talk in public, network or travel alone. As the years passed by, walking this long journey, I have earned more experience and more confidence. I am sure that many more people like me need this experience to learn and to have all resources in hand. Life is about walking a long journey with a positive attitude, making yourself open to learning, and eventually giving back to society.
5. Words of wisdom you absolutely live by?
"If you believe in yourself, everything is possible". This quote is very important to me and I think it has the same effect on everyone in the world as well. Without trusting in yourself you cannot make anything succeed or move forward.
Thank you Rachana Pauv for your story. We look forward to having you & Socheata Touch do wonders in Cambodia! ❤️
---
Now, it's your turn:
What inspired *you* the most about Rachana's story? Let us know in the comments! 🤗
---
P.S – We want to get to know you better and the work you are doing — Join Woomentum today! 💪