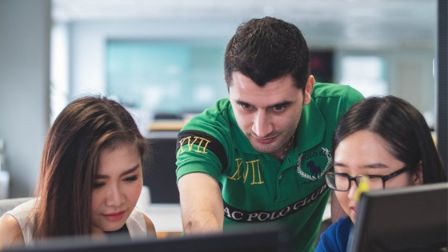 Hiring the right person for the right job has always been a critical dilemma for entrepreneurs; especially those who are just starting out and have limited hiring budgets. To make it even worse, employees usually stay no longer than 8 to 12 months with a startup, which means all the training and recruitment effort goes to waste and the entrepreneur has to do it all over again with a new employee. Mouna Aouri posted this dilemma on Woomentum after speaking to a friend who was bootstrapping his business on how to re-inject the revenues back in the business, grow the team and keep pushing growth till monetisation. She received quite insightful answers. Here's our quick recap.
Finding the Right People with the Right Mindset – Kevin
It's difficult to evaluate the mindset of people you look to hire within just one or two interviews.
Kevin Schultz says,
"I also bootstrapped when I started four years ago. Bottom line is it is really the only way to go. You can try financing but it only puts you in debt to others for the foreseeable future and jeopardizes control.

As for employees, finding the right people and right mindset is critical. I often hire friends on the side or partially employed to leverage their financial independence. I have also found hiring new graduates is a strong tactic and they tend to be more local out of the gate if indoctrinated properly."
Having a Process and Structure Flow May be Helpful – Farah
The difference between large or established businesses and startups is the fact that the former have structured process flows while the latter works on a more horizontal approach.
Farah Kim gave an employee's point of view saying,

"I haven't been on the hiring end but I have been on the employed end. I kickstarted my career working for an entrepreneur. After a year with the entrepreneur, I joined an organization full-time. The reason I quit? The entrepreneur's business came to a stall. Following that I worked with small business owners and entrepreneurs as a side gig and I've come to learn that employees want stability and an organized task flow just like in an organization. The problem with entrepreneurship is that there is a lot of initial hype but later down the line, a personal problem pops up, someone falls ill, someone loses out on funding etc. Within a year's time, there are far more greater chances of entrepreneurs shutting their business than of an employee walking out.
To avoid this, entrepreneurs really need to hire people with the right mindset. People who want to take the risk, who want to be part of the extraordinary and people who are passionate. Along with all this they also need to stay committed. Perhaps a one-year contract of commitment will help both you and the employee to stay committed to the job.
Set Up Growth Frameworks and Processes in the Pre-Launch Period – Eunice
Eunice Cheng , a growth consultant emphasizes the importance of having growth frameworks and processes right in the pre-launch period, therefore preventing slips through the cracks in the later stages.
She says,
"It's definitely a catch-22 situation with bootstrapped/ early-stage businesses. I identified that these founders and startups often fall through the cracks when it comes to attracting the right talent to join their teams. Because of this I have structured my own growth consulting practice to help these founders at this crucial stage. A lot of what I do involves setting up growth frameworks and processes for startups at their pre-launch and early-stage phase, which means I get to stay with them for at least a quarter or two on a part-time basis to train them on the fundamentals of growth, and structure their internal teams based on their business objectives."
Hire People You Have an Investment In – Hai Nguyen Employment structures and employee attitudes are rapidly changing across the world. No longer are employees forced to be in a full-time job that they do not enjoy.
Hai Nguyen , says,
This is something faced by all organisations from start ups to the behemoths. And whenever you hire someone, you take on some element of the mentioned risk. However, we are very lucky to live in an era where entrepreneurs have access to a lot of talent, and a range of ways to engage them. If your friend is taking time out of his business to bring in revenue to reinject into the business, who is developing his team? Has he got a team in place where by there is a leader for development of the more junior members? No matter whom you hire, there is always an investment in them and if that doesn't exist, you won't keep them.
The generational motivations also differ. We blame the younger generations for their lack of interest and professional longevity but maybe the way we engage and extract their talents and ideas needs to be re-examined. As for hiring more experienced people – usually they're at a stage in their lives where they want stability that a start up can't always guarantee. This is a problem my team faces. It boils down to hiring the right person, with values and direction that align with the business, who is also willing to take a risk. Maybe he should not worry about attrition and potential loss of investment and rather focus on the potential and working on getting the most of people he hires knowing that they will at some point leave for their own development. "
With so many amazing thoughts out there, there is one central point that cannot be ignored – hiring the right people, with the right mindset, values and directions. It's no longer just hiring for skills or talent, but mindsets, attitudes, and values play a critical role in determining whether the person is a right fit for the organization.
---
Have something to add to the conversation? Feel free to comment here or on the original post!