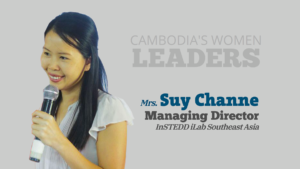 This is a single part of a series of stories of 21 women leaders of Cambodia. Download the full publication here.
Give a short introduction about your life (family, education, marital status) and how has your experience been as a leader and what achievements are you most proud of?
I was born in Kampong Cham province and grew up and lived in Phnom Penh. In 2003, I received a scholarship from the Indian government to do my Master's degree in computer applications in Bangalore. I am now married and have a 3-year-old son.
For the last 10 years I have been with InSTEDD. My current role is managing Director of iLab Southeast Asia. I remember I was the only woman in the Cambodia team when I first joined. Now, we have 7 women on the team. I feel privileged to work with a diverse team at InSTEDD globally. We are an unconventional technology, non-profit organization, flat in terms of hierarchy with a culture of openness for new and inventive ideas from anyone on the team. I must admit that I have learned and grown a lot in these years at InSTEDD.
I feel grateful for these years' opportunities to work with such an amazing team, as well visionary people and change makers from inside international agencies, governments, NGOs and frontline workers. I feel very proud of our achievements in helping to strengthen the public health system, the bottom up approach of incubation solutions driven by frontline workers, as well as our new avenue to help strengthen the public education system with coding classes and technological capacity building.
When you first started out with your career, what were your most significant challenges?
The biggest challenge for me was when I returned back from my studies abroad. For a year I worked for a tech company, but I was not feeling satisfied, as there was something missing, a values connection. It took me a year to be clear about the kind of work I wanted to do, the kind of work with values that I cherish. I found that self-discovery was the the biggest challenge right when I started my career.
Over the years, what valuable lessons have you learned as a leader?
Over the years I have learned that if a good leader builds a great team and culture, success will follow. It is about empowering the team, giving opportunities for the team to grow and take responsibility, at the same time standing by our values and making tough decisions.
What are your core values and how do you ensure your team is aligned with your values?
Trust is the core value of my life in work as well as in relationships. In the aspect of work, I communicate to my team to let them know that I have trust in them and if there is any doubt, I would pull them aside and talk to them about my doubt or concern. We cannot work together if there is no trust.
What are some of the behaviors or traits that you think are negatively impacting leadership?
Probably the "police and thief" behaviour in an organization. If the leader does not have trust in the team and focuses on creating rules and finding fault, the team will not give their best or utilize their full potential for the organization.

What are you doing to continue to excel as a leader (leadership tips in doing business and promoting women's economic empowerment or gender equality)?
Leadership is not a degree certificate, it is proven by the quality of the team you lead and the success that results. Every day, I am learning to be better at getting the best out of my team, and I hope I can contribute by helping each member to be a future leader.
We currently have more women in the team than men which is a different concern to have in our unequal world. Going forward we want to balance the numbers (future recruitment perhaps giving more priority to men) so that we can have balanced gender input into our work in order to impact society equally.
What are some of the biggest risks you've taken in your career and how did they turn out?
A few years ago, I raised a new idea to my HQ management to adopt the startup incubator concept to explore new potential and incubate social impact solutions with frontline implementers. I was not able to secure the buy-in of my HQ but luckily they did not stop me either from fundraising to try it out. In the end, one of our existing funders agreed to support it as they believed in our past work with them. I was very happy that we got funding to work on that idea but I did have butterflies in my stomach at the same time. What if the result did not turn out well? The trust that my HQ and the funder had placed in me would fade. Somehow the result turned out well, and the funder even agreed to fund another round of the program and in the end my HQ was happy and supported our program.
What makes Cambodian culture unique and how do you think Cambodia can thrive in this age of entrepreneurship & dynamic leadership.
Cambodian people are hard working. With our dark history and limited public services, people tend to have lower expectations for external support and need to rely mostly on themselves. If you ask Cambodians what they wish to achieve in their life, a very common answer is to own a business. Cambodian people have a strong entrepreneurial spirit. People are eager for the opportunity to start a new business and be their own boss. I am very optimistic that Cambodians have a good entrepreneurial trait that will thrive in this age.
What advice do you have for young Cambodian female entrepreneurs?
For young Cambodian female entrepreneurs, especially those who have just graduated from university, I would advise them to spend at least a year working for a successful business that they admire. You may have a great idea but you need experience in order to understand the dynamics of how business works. Operating a business is going much beyond having a great idea.
© Copyright 2019
This is a joint publication by Woomentum and Konrad Adenauer Stiftung. Download the full publication here.