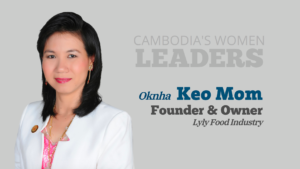 This is a single part of a series of stories of 21 women leaders of Cambodia. Download the full publication here.
Give a short introduction about your life (family, education, marital status) and how has your experience been as a leader and what achievements are you most proud of?
I love eating and spending money – that's why I want to run businesses, so I can earn money.
I was born in 1975, and after I finished high school at age 15, I started to help in my parents' business. My mum was sick then, so I had to take care of the family business. I was the third child among 7 siblings. At the time, my sister got married and moved to Canada and my brother went to Thailand. So I was the one who had to take charge of the business.
I married in 1993 and gave birth to my son in 1994, and in 1996 my daughter was born. In 1997 my second son was born. After the birth of my first son, I went to work for a Singaporean business owner (importing crackers, cigarettes, soft drinks, and other groceries). I worked as an accountant initially, then as a stock controller before moving to become a salesperson. I found I had a natural ability when it came to sales.
At the time, I had an idea that I wanted to run a business for myself and I could produce crackers myself, save the transportation fees and provide jobs for my people, while providing for my children. So I decided to start producing my own crackers and began looking for investors but I was not successful at finding any. I also searched for machines for many years.
Before starting LyLy food company, I imported many products from neighboring countries, but the business was not good. I ran another business selling secondhand clothes but it failed too. However, in 2002, I started my business, Lyly, without really having any business knowledge. I sold my house for $70,000 to buy machines and I faced many issues such as human resources and production, including food tasting. My business started growing when I created trust among the locals by encouraging retailers to sell local products like mine.
In 2005, I received a great deal of support from the Ministry of Industry, and many NGOs such as JICA, APO, UNIDO, JODC. I finally gained confidence and was eager to learn as much as I could from other people.
I am now so proud as my company is now recognized by the Government and markets abroad.
Take calculated risks and take responsibility for what happens.
When you first started out with your career, what were your most significant challenges?
General business knowledge
Finances
Experience of leadership
Production methods
How to access the the markets
Trust from customers about local products
I handled the challenges by working closely with my team. I was constantly thinking and using my brain all the time. The important point is to have more ideas and think ahead. I began to believe that there is nothing on Earth that I could do. I finally realized that I could succeed just as others have.
Over the years, what valuable lessons have you learned as a leader?
Understand people when I try to lead them
Learn from the issues we face when the business is growing, and when the issues increase as well. When I face challenges, I can handle them by listening and finding the root causes.

I used my knowledge that I gained from studies of how other countries manage businesses

Understand the mindset of people and work with them in tackling any issues

Have a good work/ life balance. I was lucky as my parents and my parents-in-law helped to take care of my children.
What are your core values and how do you ensure your team/ staff/ family/ customers is aligned with your values?
Be a reasonable person and have confidence in myself
Long-term thinking/ vision about the advantages or disadvantages of the directions we set
Take calculated risks and take responsibility for what happens. I dared to sell my house to run my business while others thought that it is was not the right thing to do because I had no knowledge and experience in business.
I have no remorse for what I decided to do. No one can change my decision making because I am accountable for what happens to me. I feel I am doing the right things. I do not use my money to gamble; I use my money to create more money.

What are some of the behaviors or traits that you think are negatively impacting leadership?
Uncertainty of direction
Not delivering on promises with customers
Being too aggressive and proud of their achievements
Not respecting others' opinions
Looking down on others when they become leaders
Looking down on the tasks and carelessly treating the jobs
Being a good leader means we respect people, not make them scared.
What are you doing to continue to excel as a leader (leadership tips in doing business and promoting women's economic empowerment or gender equality)?
Give people respect
Be patient
Maintain your core values
Be confident and believe in yourself
Ensure that your ethics are maintained and and that your actions will not negatively impact others
Help yourself then others will help you
Do not care too much about what others say, be strong and confident in your decisions.
What are some of the biggest risks you've taken in your career and how did they turn out?
Risked everything by selling my house
Trying to sell products while in debt
A few fires happened in my former factory in 2008 but I managed the situation by asking people to help. Never be afraid to ask for help. As a woman, I was strong enough to control my panic and manage the incidents, and thankfully no one was injured.
What makes Cambodian culture unique and how do you think Cambodia can thrive in this age of entrepreneurship & dynamic leadership.
Culture of sharing business experiences. It can help the new business owners to handle the business challenges. It contributes to economic growth
Support from Government to handle the issues faced by SMEs such as tax incentives, GPSF-Government Private Sector forums where SMEs can raise issues and ask the Government for help. These meetings take place twice per year.
We are born from the wonderland of our ancestors who built Angkor Wat. We have to be proud and do things more like our ancestors.
What advice do you have for young Cambodian female entrepreneurs?
Be strong and believe in yourself
Give value to your own self worth
Do not care too much about what others think. If you think it is a good idea, do it!
Take the initiative to sort out issues. If you cannot do it today, try to do it tomorrow and never give up
Manage stress
Manage each situation as it arises. It is okay to fail. Just pick yourself up, learn from it and keep going
© Copyright 2019
This is a joint publication by Woomentum and Konrad Adenauer Stiftung. Download the full publication here.