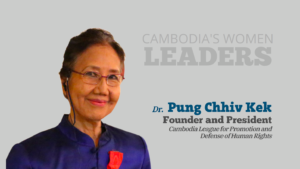 This is a single part of a series of stories of 21 women leaders of Cambodia. Download the full publication here.
Give a short introduction about your life (family, education, marital status) and how has your experience been as a leader and what achievements are you most proud of?
I am the founder and President of the Cambodian League for Promotion and Defense of Human Rights (LICADHO). I am a medical doctor, coming from a family of public figures. My father served in the cabinet of then Prince Norodom Sihanouk from 1979 to 1993. My mother was the first woman to sit in Cambodia's National Assembly in 1958 and served as Minister of Health and as Minister of Social Affairs and acting president of the National Assembly under Sihanouk during the 1960s.
I went into exile in France in 1971, after my parents left Cambodia for medical treatment and were not allowed to come back. In the 1980s, thanks to my family's close ties to King Sihanouk, I arranged meetings between the King and Hun Sen. The meetings took place as early as December 2, 1987. This started the process that led to the 23 October 1991 Paris Peace Accords. I returned to Cambodia in 1992 and founded LICADHO to promote human rights in the country. I am also the Chairperson of NGO-CEDAW and CAMBOW.
I had to be better than men doing the same job as mine to prove my competence.
When you first started out with your career, what were your most significant challenges?
When I started as a medical doctor, there were very few women in the field. Old school traditionalists held all the positions of power and decision making. I had to be better than men doing the same job as me to prove my competence and my value. Fortunately, many people, especially women, were very happy seeing women doing their part in the society. They eventually prevailed, bringing a new generation of talents from both genders.
Over the years, what valuable lessons have you learned as a leader?
Over the years, I learned that we cannot take any progress for granted. There always will be forces of inertia or opposition counterbalancing leadership. In the new era as Cambodia enters a period of acceleration, leaders need to constantly review their positions to be in harmony with progress taking place as well as with the external physical, human and operational situation.
What are your core values and how do you ensure your team is aligned with your values?
Equality of all people, democracy, independence and fundamental liberties are my core values. I ensure my team is aligned with my values through recruiting and constant reevaluation, exchange of ideas and training.
What are some of the behaviors or traits that you think are negatively impacting leadership?
I think that not listening to comments or critics has a negative effect on leadership. Allowing comments or criticism without considering the whole picture and without listening to diverging opinions adversely affects decision-making. Another point to avoid is not giving a good example in work or behavioral ethics. Of course, a leader has to lead and be able to make decisions; indecision is a weak point of a leader.

What are you doing to continue to excel as a leader (leadership tips in doing business and promoting women's economic empowerment or gender equality)?
I strive to show women the importance of not letting obstacles of any kind discourage them; they must do all they can to persevere in their activities. I also try my best to help prepare for the future in promoting education, training and formation of the next generation.
What are some of the biggest risks you've taken in your career and how did they turn out?
When I first started, it was very difficult for me to be taken seriously. A young woman was expected to just marry and stay at home; trying to get a career was not well accepted by society.
When I started making contacts to set up a meeting between Prince Sihanouk and Mr. Hun Sen, it was seen as an unwanted and inappropriate intrusion into international affairs by a private citizen. Eventually, against everyone except my parents' and my three daughters' advice, I persevered and that ultimately led to the 23 October 1991 Paris Peace accords.
What makes Cambodian culture unique and how do you think Cambodia can thrive in this age of entrepreneurship & dynamic leadership.
Because of its history, ancient and recent, Cambodian culture has proved to be a very important part of the national psyche. Traditional values and modern ideas together form the core of actual Cambodian culture, like the role of women in society. After the Khmer Rouge, who nearly brought Cambodian culture to the verge of extinction, there was a rebirth in pride and an openness to the influx of modernity. New values from outside and from within Cambodia have been added to Khmer culture making it not only adapt to, but thrive in the modern world.
What advice do you have for young Cambodian female entrepreneurs?
I would advise Cambodian female entrepreneurs to persevere despite adversity and to make themselves seen and heard. Also, I would encourage young women not to hesitate to pursue a course of studies oriented towards entrepreneurship and leadership and to apply their skills to business or to their career path.
© Copyright 2019
This is a joint publication by Woomentum and Konrad Adenauer Stiftung. Download the full publication here.