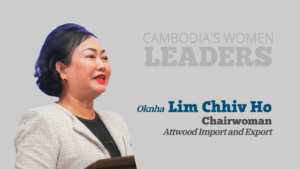 This is a single part of a series of stories of 21 women leaders of Cambodia. Download the full publication here.
Give a short introduction about your life (family, education, marital status) and how has your experience been as a leader and what achievements are you most proud of?
I was born in Sihanoukville on October 1, 1961. I had 10 siblings but half of them were killed together with my father and other relatives by the Pol Pot regime. I have five siblings now and I am the third one. During the Khmer Rouge rule in 1975, my family was split up and I was placed in a camp with 275 other children. At that time, I was 11 years old and forced to work in the construction eld of an irrigation system without rest. The Khmer Rouge randomly took people out every day and killed them, in particular those who had a Chinese background and were educated. Luckily, I was one of five girls in the group who survived. In late 1978, I was finally reunited with my mother, sister and young brother. At the time Vietnamese troops conquered Cambodia, my family and I started our first business venture by cultivating and selling rice and rice wine to Vietnamese troops and trading livestock for gold. My mother arranged my marriage to a fisherman who used his boat to carry electronics, liquor and cigarettes brought to the island of Tamor Sor by large merchant ships from Singapore. I recalled I was at home selling noodles at that time. My husband was imprisoned because he was selling motors from Thailand to Cambodia without a passport. That was the time I was very deeply involved in business. It was the foundation of my Attwood Import & Export Company, which was established in 1994. Until now, I have had exclusive rights to sell alcohol brands such as Hennessy and Johnnie Walker, and my other portfolio is in property and infrastructure development, hotels, hospitality and the Phnom Penh Special Economic Zone. Due to my success in business, I was selected as the Vice-President of both the Phnom Penh Chamber of Commerce as well as the Cambodia Chamber of Commerce.
Women should stand strong to face the issues and start their dream businesses.
When you first started out with your career, what were your most significant challenges?
The greatest challenge I have faced while running my businesses is learning how to separate family and business. The nature of business is volatile, money can be earned or lost at any time so I have to pay serious attention to it but my family also requires the same attention. Frankly, my brain is always switched on for business ideas.
My core values are to have a strong will and to turn vision into reality in a business. The vision itself should help the company to grow and create jobs for our country. When doing business with investors in countries such as Singapore and Japan, my core value is integrity. When you get the right partners, you have to stick together if you want to get success. The same applies to your employees and customers. One must be a businesswoman who has a staff retention programme in order to maintain loyal customers.
What are some of the behaviors or traits that you think are negatively impacting leadership?
Not walking their talk. Most ineffective leaders are talkers and order their people to do things but are not involved in the process. If they aspire to be a "great leader," it's important that they "walk the talk", meaning that they actually do what they have talked about. Then their team can follow their leaders.
No clear goals and objectives. Leaders must have clear goals and directions for their people. If they do not have clear goals, they cannot drive their teams and they will not know when and what they will achieve at the end. In some cases, the company has clearly defined goals and strategies but they have not been effectively communicated to their followers and teams. This can be a disaster for the company.
Lack of accountability. In team work, without a "culture of accountability," teams will never complete and achieve their assigned tasks because it is too easy for members of the team to get sidetracked "putting out fires".

What are you doing to continue to excel as a leader (leadership tips in doing business and promoting women's economic empowerment or gender equality)?
Create a culture of mentoring especially by successful women entrepreneurs to young start-up businesses
Understand my people and provide them opportunities to demonstrate their capacity
Give my people/teams incentives based on their performance

In business, it is vital to select the right partners. I have to carefully study potential partners' business background and history. It is not always about money. It is about transparency, trust, and the good reputation of their businesses.
What are some of the biggest risks you've taken in your career and how did they turn out?
I remember the biggest risk for me was to start my business when my husband was confined in 1985. As a housewife and newly starting to do business on behalf of my husband, there were many challenges. I stayed on the island for five years and worked with groups of men to transport goods from the ships to the coast. At that time, ships from Singapore could not come to the Cambodian shore directly. It was not safe because there were Vietnamese and Cambodian soldiers. Every night my group of men would take small boats and go to Sihanoukville to sell the products. My name became very well known on the island and people helped me to do my business and I would cook rice for them in the evenings. My success started from self-confidence and commitment to work with both men and women.
What makes Cambodian culture unique and how do you think Cambodia can thrive in this age of entrepreneurship and dynamic leadership.
Cambodia is a very good place for investments in the region because the market is very open and welcomes all nationalities from around the globe. For example, my company has received contracts from the government to develop Special Economic Zones (SEZs) in Sihanoukville and Bavet. Because of the free market, friendly people, peace and political stability in Cambodia, I can attract more investors. Cambodia has investment incentives under Cambodian Investment laws and regulations. I have also recently signed a joint venture with Zephyr Co. from Japan in order to establish another SEZ close to Phnom Penh. With strong support from the government, these zones offer huge business opportunities, to name but a few, a nine-year tax holiday, exemptions on VAT and import and export duties for both local and foreign businesses.
What advice do you have for young Cambodian female entrepreneurs?
"Today women can do the same as men… and can do anything. I want to teach women how to be strong, how to do business, and how to grow."
– Chhiv Ho Lim.
Cambodian women have to believe in themselves that they can do as well as their male counterparts. They have to sharpen their skills/networks, build a good pool of human resources and transform their family businesses to the standard that is ready for joint ventures with other investors as well as to boost Cambodia's industry in the future.
Taking this opportunity, I want to encourage all young Cambodians who must continue their studies both within the country and abroad to gain more experience and build their skills to increase the country's economic growth. More importantly, women entrepreneurs have to devote their time and efforts to start their business dreams. They should not care much about others' criticism and stand strong to face the issues. They must be brave enough to speak out and take action by showing their achievements to the public.
© Copyright 2019
This is a joint publication by Woomentum and Konrad Adenauer Stiftung. Download the full publication here.