New to entrepreneurship, but determined to make a dent in the universe, Socheata is the founder of InoTED – a business initiative that provides ICT solutions to address challenges of the private sector and non-profit organizations in education, tourism and agriculture industry.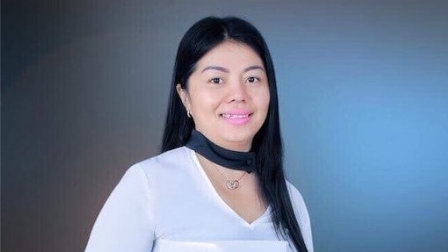 Socheata is also the chapter leader for our regional network in Cambodia and we found her story highly inspiring. A new entrepreneur who's trying to find her way, but has not let her fears, limitations and lack of experience deter her ambitions. Here's her story, in her words.
Business Name: InoTED
Business Category: ICT
Business Founded in: August 2017
1. Please tell us about your journey as an entrepreneur. What made you want to start your own business and what were the initial challenges you faced?

There were multiple reasons that brought me towards entrepreneurship, but primarily it was the desire to drive social change and promote economic growth in my country that was my main motivation.
I believe the role of women has significantly changed nowadays. They are not only doing household chores but are also working and/ or running businesses which contribute to the economy. I am a woman and I always asked myself, "what more can I do?". For half of my life, I have devoted my time working in non-profit organisations and I believe this has contributed to my desire to create a business that can create more jobs for women, thus empowering them. I launched my business in August 2017 by the name of, "Innovative Technologies for Education, Tourism, and Development – InoTED".
Talking about challenges, right from the start, I encountered many issues because I am quite new to the business world. I did not know how entrepreneurship works and how to begin a company and go about processes like legal registration, marketing, business plan development, and so on.
2. Currently, what are the problems you're facing and what kind of help are you looking for?
While I am running a company, I have joined many business associations and networks in Cambodia. I have volunteered to work for Cambodia Women Entrepreneurs Association as vice-chair of the Capacity Building Committee. This experience has helped me build my business acumen and obtaining valuable learnings from other businessmen and women. However, I am still facing other challenges, for instance, access to a wider market and access to finance. The human resource in Cambodia's ICT industry is expensive and very competitive.
3. Where do you see yourself or your business five years from now?
Frankly speaking, I see myself leading InoTED not only in Cambodia but also in other neighbouring countries such as Myanmar, Laos, and Vietnam. I also have another vision to export local Cambodian products to other companies. I am already working at this on a smaller scale and hope to take it further in the future.
4. Give us a day in the life of Socheata.
I am single which allows me flexibility in terms of working hours! I take up the operation roles of business by conducting daily planning sessions with my management team and staff. I have time for my family members and friends during weekends and holidays. Normally I allocate lunch and dinner times for business networking. I spend at least 60 minutes at the gym every two days.
5. What kind of support would you like from a network like Woomentum?
I appreciate the establishment of the Woomentum community, which I think can provide extensive support to people in a region like mine. It would be much appreciated if Woomentum could connect me to investors who are interested in ICT solutions addressing social issues in education, tourism, and agriculture.
I want to empower women in the community to have an independent income; a goal that I'm trying to fulfil with the exportation business. I am engaging indigenous women in two provinces of Cambodia to sell their local products and secure a livelihood. If possible, Woomentum could help me find ways to sell local products from Cambodia to other countries and teach me how to set up homestay business for indigenous women.

6. Any valuable lessons that you would like to share with entrepreneurs out there?
I wanted to share a good lesson I learned. I never gave up my business dreams and I believe in the law of attraction. I finally can make my business ideas visible even though they are not growing very well yet. Without teamwork and good leadership in the business cycle, I could not be who I am today.
How You Can Help Socheata
Like many young entrepreneurs, Socheata is driven by a desire to help her region's women achieve independence all while trying to manage a business of her own.
If you're interested in Socheata's story, feel free to reach out to her and show your support!
---
Our Key Takeaways from Socheata's Story
– Dive into it, even if you don't have the experience. If your heart and mind are set in the right place, you'll learn as you go through it, step by step.
– Network with people and work for organizations that can help you learn, grow and build your business.
– Always give back to the community. There is no better reward than that!
---
About the Author: A passionate storyteller, Farah Kim believes that words have the power to shape cultures and drive societies towards progressive change. Motivated by her curiosity, she discovers and shares stories that contribute to a better world.
---
Plus! If you want to be featured as an entrepreneur, contact one of our Woomentum hosts. We'd ❤️ to hear from you.