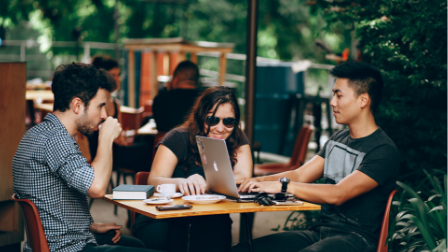 In today's digital world, learning has a whole new meaning. Unlike the older generation that prefers classroom trainings, today's young professionals want chunks of information delivered interactively while on the go. Simply put, busy lives and schedules have placed a demand for mobile learning and have drastically changed the learning landscape. This shapes a new position for the expert, trainer and experienced professional who wishes to train, teach and contribute to the industry.
The benefits to creating your own online courses are plenty but, creating a course on a strong community network like Woomentum is massive exposure that can help you in innumerable ways. We're happy to share some key pointers to help you kickstart your journey as an expert online trainer on our network!
1. Creating Online Courses Is One of the Best Marketing Tools for Your Personal Profile and Your Business
Today, an expert's ability to create interactive and engaging learning materials derived from otherwise boring information defines his or her success. In fact, a great online course that caters to the needs of your specific audience can instantly give you the following and success that a blog or an e-book might take ages to gain. One of the best marketing tools for your business and personal brand is an online course that aims to help learners walk away with information they can use and implement in their business.
2. Creating Online Courses Allows You to Build Valuable Relationships with People in Your Industry
When you create an online course using a community platform like Woomentum, you gain access to an exclusive network of people who are ready to invest their time and money in your online course. Once you establish yourself as an effective trainer and course instructor, you actually build a strong relationship with people in your industry. And by industry, we mean people beyond your immediate network, people from far and wide, people from every corner of the world. That's the power of creating great courses using a community network.
3. Creating Online Courses Sets You as the Go-To Person and Creates Business Opportunities
Gaining followers and becoming a go-to person for hundreds of people across the globe is a very rewarding experience. You become the person people want to hear, want to take advice from, and want to partner up with. Not only does this define you as an expert of your field but can also land you interesting business and partnership opportunities from different corners of the world.
Of course, creating an online course also provides monetary benefits, but we firmly believe that it is the exposure, connection and opportunities that outweigh the monetary gains. This is why we strive to help our experts create amazing courses that focuses on delivering valuable information that our young entrepreneurs can acquire at a cost-effective pricing.
---
About the Author: A passionate storyteller, Farah Kim believes that words have the power to shape cultures and drive societies towards progressive change. Motivated by her curiosity, she discovers and shares stories that contributes to a better world.
---
To help you kickstart your journey into creating online courses using our platform, we've created a course for you that guides all newbies from start to finish. Those who complete the course also has access to course materials and templates that they can use to plan and create the course.
An hour of your time is all you need to take it and learn how to make an interactive course for the Woomentum community.