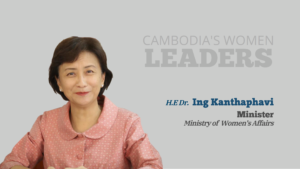 This is a single part of a series of stories of 21 women leaders of Cambodia. Download the full publication here.
Give a short introduction about your life (family, education, marital status) and how has your experience been as a leader and what achievements are you most proud of?
I was born in to a family where my father was a senior government official. My mother was a housewife who loved education. My parents, in particular my mother, played significant roles in sending me and my siblings to schools based on our learning capacities. They provided me with a golden opportunity to study, not only in Cambodia but also in France. I had seven siblings (four sisters and three brothers) and all of them are now professionals working as engineers, accountants, pharmacists, scientists and so on. I married an economist and now have a daughter. I left Cambodia in 1972 to study in in France. I hold 2 degrees: a Doctorate of Medicine (Paris) and a Brevet in Public Administration from the Ecole Nationale d'Administration (ENA-Paris) completed by a short course in the executive program "Leaders in Development: Managing Political and Economic Reform" at the John F. Kennedy School of Government at Harvard University (2004).
I spent almost 10 years in France working as a private medical doctor, working initially in French hospitals and then in my own consulting rooms. I then became the Director of Drugs for clinical trials in a French company. In the 1990s, I was also Deputy Secretary General in the "Association des Médecins Cambodgiens" whose objectives were to provide technical and medical assistance to Cambodia, such as medical drugs, medical equipment and training all with a view to upgrade doctors' skills.
I was returned to Cambodia in 1995 and worked as a Technical Advisor to the Ministry of Rural Development. During this time I was responsible for community development with a focus on rural health, economic women empowerment in reviving the silk sector and access to clean water. In 1998 I moved to the Ministry of Women's Affairs, serving five years as Secretary of State and was promoted to Minister of Women's Affairs in July 2004.
What I am proudest of is that I have had the opportunity of experiencing both the public and private sectors. The working environment is more competitive in the private sector, you have to be better and more innovative than the others, and the mindset and management style are more guided towards the financial benefits of the firm. Whereas in the public sector, you have different motives as you are working for the public's interests and benefit.
Believe in yourself, in your abilities, and in your vision. Be down to earth and be receptive to feedback
When you first started out with your career, what were your most significant challenges?
I first started my career in France and was well integrated. However, I encountered a few challenges at the beginning relating to the differences of culture and mindsets, also as a woman and a foreigner (physically different from the French natives). The difficulty of trying to impose myself as a manager and leader. I had to strive more to make myself respected among my peers and staff.
Finally I would say, with a lot of effort and perseverance, I was able to manage and succeed in my career quite well.
Since France became a member of the European Union, I noticed changes progressively coming in people's behavior, with more open-minded people accepting differences born of diversity.
Over the years, what valuable lessons have you learned as a leader?
I'd like to share certain lessons learnt during my previous and current experiences both in public and private sectors, to ensure success in your mission:
Who we are leading? It is very important to know the people that you are supposed to lead and to provide them clear directives,
Make sure you and your staff have a shared vision,
Make sure they fully support you and trust you,
Leaders need to carefully think about putting the right people to the right role based on an evaluation of their soft (communication, flexibility, adaptability) and hard skills.
We need to establish 2-way communications between leaders and followers,
Leaders must clearly understand followers' expectations before making commitments. Leaders do not blame others when things go topsy-turvy, they are responsible to fix the problem. Accountability is important for any leader.
What are your core values and how do you ensure your team/ staff/ family/ customers is aligned with your values?
In family, husbands and wives are love and life partners. I never think about the role of leader or follower in the family because I always feel that my husband and I are equal. Before getting married, I discussed with him about my dream to be a professional woman not only a housewife. He agreed to allow me to have a career and we shared our career aspirations.
What are my core values?
Never give up! Persevere with your efforts. Be down to earth! When you commit to do things, you do it despite challenges, obstacles or discouragement from others. Have the courage to continue.
I value negotiation skills which powerfully smooth your way forward.
Do not feel shy or ashamed to ask for support from others if you need to.
Women can climb the career ladder when their husbands support them, when they share family responsibilities and household burdens and do not have any feelings of competition with their spouse. It can be stated that "happiness and success in family life can lead to success in professional careers or businesses". This can apply to both women and men. Having parents as good role models will have a good impact on the children's future.
Women support women. Women should have confidence in themselves and provide support to other women in the company or in society.

What are some of the behaviors or traits that you think are negatively impacting leadership?
Putting his/her own interests ahead of the general interest of the team, the company or the institution, being narrow minded and short-sighted, abandoning the commitment when obstacles occur, being indecisive and not taking responsibility for your actions.
What are you doing to continue to excel as a leader (leadership tips in doing business and promoting women's economic empowerment or gender equality)?
Believe in yourself and your ability.
Believe in your vision and commitment
Be down to earth and be receptive to feedback.
What are some of the biggest risks you've taken in your career and how did they turn out?
The biggest risk in my career was to decide to abandon my professional and comfortable life in Paris in the 1990s and to come back, with the whole family, to Cambodia, a country I left 23 years previously. The situation and the comfort in Cambodia at that time were quite challenging and difficult, I was paid a salary hundred times lower than I used to get for my job in Paris, and this meant I couldn't afford even the schooling for my daughter. My understanding and relationships with people had to be readjusted to the new environment I found myself in.
Now, after more than 23 years of effort, patience, perseverance and courage to continue with a goal in mind to contribute to the reconstruction of the Country and to assist in building the human resources capacity, I am now Minister in charge of Women's Affairs.
What makes Cambodian culture unique and how do you think Cambodia can thrive in this age of entrepreneurship & dynamic leadership.
I would say that Cambodia provides golden opportunities to local and foreign workers, entrepreneurs and investors because there is a great need for for development. The Cambodian population is young and eager to accept opportunities.
Cambodian people came back from the genocide era, and they are now more resilient to difficulties, obstacles and crisis situations. Cambodians are more adaptable to different situations.
Cambodian people are friendly, dynamic and innovative in their approach to a problem or to launch an initiative.
Women should have confidence in themselves and support other women in the company or society.
What advice do you have for young Cambodian female entrepreneurs?
From my own perspective, many young Cambodian women are strong today. I would like to share some advice to those who are in business as well as in other sectors.
Do not be afraid to have big dreams. Always keep hope that you will achieve your dreams.
When you feel you are doing the right thing, please continue doing your job based on your goals and vision.
Motivate yourself and others. Doing business is a long journey with a bumpy road. Have confidence in yourself and bring others on board for support.
Do not regret the past if you need to change your path. Life is always moving forward with ups and downs but have faith in yourself. You will get out from the downs if you persevere. You have to stay strong and move forward to the next step!
© Copyright 2019
This is a joint publication by Woomentum and Konrad Adenauer Stiftung. Download the full publication here.