Women make up 48.5% of Pakistan's total population; however, according to the Pakistan Council of Science and Technology, their talent has been greatly underutilised. Although there is a rise in women's education and empowerment, only around 15.4% of women researchers belong to the science and technology industry.

Despite the low statistical count, there is a positive trend visible in the country. As technology becomes embedded, a rise in education as well as in female entrepreneurship is also visible. Today, we talk to Faiza Yousuf, a professional of the tech industry with more than a decade of experience and a force to reckon with in Karachi's IT hub.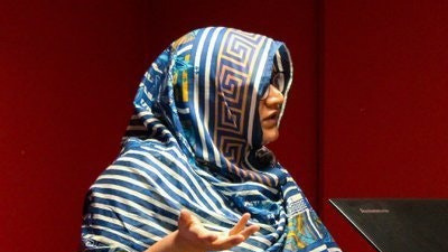 Name: Faiza Yousuf
Business: #WomeninTechPK, a platform that brings together women in the tech industry to network, communicate, seek opportunities and empower each other in a largely male dominated industry
Tell us about WomeninTechPK, your motivation for this initiative and the challenges you faced when you first started out.
#WomenInTechPK is a women-only community where members can talk freely about issues, seek advice and opportunities, find mentors and form collaborations with each other. The community does offline meetups where members network, discuss and learn about different relevant topics. Its goal is to reach out to women and initiate an open dialogue about the cultural issues they face and devise strategies for a collaborative effort towards creating a more diversified and accepting environment for women.

The starting part was easy, however, running a community and keeping it alive and active is a lot of hard work. There are privacy and safety concerns as well, so we add members on referral basis only and ensure that no conversation, like screenshots, go out of the group. We plan to achieve better representation for women in the workplaces and on all the forums, especially conferences. We're also working on ways to help women get back to the workforce after taking a break.

Another agenda is to help create work-from-home opportunities for women and train our members to win and execute contracts. The motivation behind this initiative comes from my own struggle in the IT industry. I started it after listening to a discrimination story from one of my students.
How has #WomeninTech's programs helped its members?
We have done sessions on helping women with starting their freelancing careers and we have a couple of members who are doing very well on Upwork and similar platforms. There are numerous cases where women reached out to our members asking for help in preparing for tech interview; and one startup founder found her co-founder on our platforms. We also did an anonymous survey on WomeninTech's effectiveness and from the sample, around 75% members rated the group as positively helpful.
What are the most common challenges Pakistani women in tech face, and how do you think those can be overcome?
Lack of support from family, lack of women-friendly policies in the workplace, as well as gender discrimination and stereotyping.

By starting a dialogue and awareness about these issues and helping organisations in creating better policies for their employees. This includes paid maternity and paternity leaves, work from home policies, support for in-care work and setting strict measures to significantly minimise workplace harassment.
As a woman who has established a career in technology in Pakistan, what have you learned over the years?
It's important to find your own voice and use it well. Also, network with diverse groups of people, build relationships and gather allies, and skill up.
Any quick tip for first-time entrepreneurs?
Find a mentor, someone who has done it all before you and can guide you. Don't fall in love with your idea or product, listen carefully, deliberate and pivot whenever necessary. Keep learning!
Key takeaway from Faiza's experience
Faiza's initiative is one out of the many initiatives women in Pakistan have cultivated to be heard and accepted. Although progress is slow, it is ongoing. It is emphasised that cultural restrictions and an overall burden on women to handle family life and social expectations are the barriers that need to be broken.
Not only will women contribute greatly to an economy, but will also empower a nation to grow double-fold and create a safer, better future.
---
Have you led a similar initiative in your country? We'd love to know more!
Share your story below so you can inspire more women in tech like Faiza does.
Like this story? Download Woomentum on your mobile phone and take a supportive network of entrepreneurs with you wherever you go!