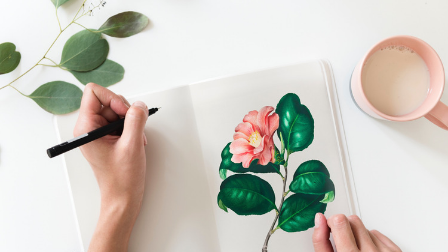 Karachi, Pakistan's economic hub and the world's third largest city, runs high with hopes, dreams, aspirations and daily struggles for a better life.  In the midst of the chaos and humdrum, middle-class Pakistani women are trying to pay bills, follow their passion and break the stereotypical culture of male dominance.
Today, we speak to Sana Khan, a well-educated woman who held a lucrative career as a digital specialist and later became a stay-at-home, single mom to a 3-year old boy all while holding a remote job and also managing a creative startup.
With this juggling of a career, a young child and an entrepreneurial initiative, what are some of the challenges and struggles a woman like Sana faces? Read what she tells us.
Name: Sana Khan
Practice/Business: Freelance Digital Specialist/FunparaZ, a passion project of unique handcrafted home decor items 
How do you manage being a mom and a full-time freelancer?
There are days when it's difficult to manage time with a 3-year old who constantly demands my attention. My parents are my biggest support. They usually take care of my kid when I have urgent/ unavoidable work to do. Otherwise I have to mostly manage time between his nap and activity hours. During daytime I am juggling spending time with him and working. At times when he wants to do quiet activities I let him sit besides me while I work.
What's been your greatest challenge in your practice?
There are some parts of Karachi where one could be without electricity for 8 hours a day at various intervals; add to this an internet service that keeps failing and you have a disaster. I have to spend additional money in getting a generator or back-up electrical service and regularly change my internet service providers to get the one that runs without frequent hiccups.
What are some challenges you face when working from home?
Pakistan is a family-oriented culture so everyone lives together and there is no concept of a separate, isolated space. So when I'm working at home, I have guests popping by, the family coming in for random chats, the quick trips to go get groceries and the TV, the kid, all happening at once.
Do you think the Pakistani society is receptive to female-led entrepreneurship?
Karachi is Pakistan's tech hub and you would expect people to be understanding of a work-from-home career, but sadly that's not the case. Some people would not take a career seriously if women were not in an office box working a fixed 9 to 5 schedule with benefits and perks to boast of.
How do you manage your creative business along with daily responsibilities?
As my child and my career take more of my time, I'm now limited to just the weekends where I can spend 3 to 4 hours painting my favourite landscapes and finally exhibiting them in art markets thrice a year. But I'm alright with the limited time I give my art business because I don't have the leverage to take time off from full time work yet. At the end of the day, I'm happy that I'm still able to do what I love no matter how limited the time I have for it.
Key takeaways from Sana's experience
1. Being a mother with a home-based career comes with several challenges, from juggling three things at a time to fighting all kinds of external problems in achieving their goals, from cultural expectations to lack of support and opportunities. But with hope and positivity, handling these tough challenges should not hinder anyone to have a lucrative online career.
2. Discrimination, low pay-rate and invalidated experience is a reality in a society where the concept of women working from home is new. It will take a lot of explaining and a fight against cultural norms to change this. Sana's story is a testament that she can manage her unconventional career efficiently.
3. Have a therapeutic escape that can help you deal with the stress and anxiety of daily life. Be it painting or gardening, the important thing is that you're doing something you love and enjoy. It's even better if you can turn it into a creative venture.
---
If you're you an entrepreneur who's also a full-time mom, we'd love to hear from you!
Share your own story or experiences in the conversation below.
Like this story? Download Woomentum on your mobile phone and take a supportive network of entrepreneurs with you wherever you go!